The full recovery of Guanajuato tourism is within reach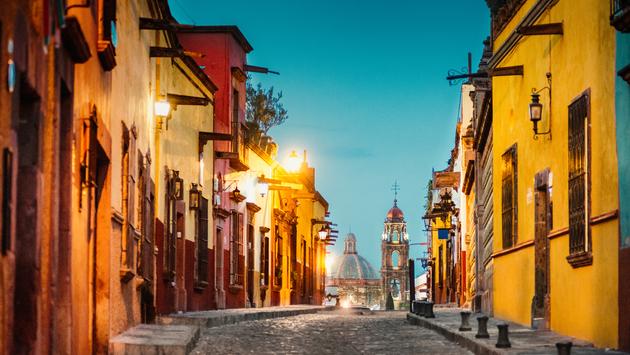 The two World Heritage cities, the capital of Guanajuato, and San Miguel de Allende will fully recover as international tourist destinations by 2023, said Guanajuato Tourism Secretary Juan Jose Alvarez Brunel.
In an exclusive interview with TravelPulse, he explained that this latest ranked destination number 1 on the list of "World's Best Cities" in the Travel + Leisure World's Best Awards 2021 and 2022, solves the problems derived from the pandemic.
"Guanajuato's capital and San Miguel de Allende are always the top destinations due to their excellent infrastructure, variety of chain and independent hotels, bed and breakfasts, and world-renowned restaurants and chefs. , Mexican and international. We have these great options for visitors to enjoy what Guanajuato has to offer," he pointed out.
He recalled that the Guanajuato Tourist Observatory, based on data collected from service providers, the private sector, the academy, as well as international institutions such as the World Tourism Organization (UNWTO), It is possible that, by the end of 2022, Guanajuato will have recovered approximately 70% of the visitors who registered in 2019.
"If we continue in this direction, by the fourth quarter of 2023 we should be back to where we were in 2019 in terms of visitors and then start growing again. We are very confident that the strategy we have designed allows us to climb to where we were in 2019, and that couldn't be done if we didn't have an alliance with the private sector, local government, and state government.
The new strategy includes nine tourist segments "because Guanajuato is not only culture but also ecotourism, an excellent option for sports. Due to its gastronomy, we have been recognized by UNESCO in 2020 – as world heritage of intangible gastronomy.
The campaign motto says that Guanajuato is where visitors can experience great stories. Currently, wine tourism is an option because in 1810, before Mexico's independence from Spain, Guanajuato – then a region – was already producing wine. Today, the state is Mexico's fourth-largest producer, with 43 wineries, 21 of which can offer tourist experiences.
"Guanajuato is closer than you think and you will experience great stories once there. It could be housing; it could be catering, it could be tasting for many people who are less than 4 hours away, that is, a domestic market of 60 million Mexican nationals, plus the fact that we have excellent connectivity via Guanajuato International Airport and from two daily flights from Houston, with United. Thus, landing in Guanajuato, the complete road network allows to visit 46 of its municipalities.
Alvarez Brunel said Guanajuato has options for every visitor, including a wellness segment, hot springs and natural retreats for yoga or meditation enthusiasts, as well as traditional temazcales, improving spiritual, mental health or physical.
For visitors looking for nature and adventure options, 20 percent of Guanajuato's territory is a protected natural area and is home to 45 percent of all birds in the country, considering Mexico is among the top ten countries known internationally. because of its mega diversity.
"In the Mexican state of Guanajuato, visitors will be able to access specialized products delivered by professionals that will enrich their tourist experience. We don't have beaches, but we don't need them.
To ensure the safety of travelers, his government has created a well-trained tourist police, supporting all visitors, wearing different uniforms and distinctive colors in their police cars, with a professional and friendly approach.
He also mentioned that travel agents are essential in the tourism sector of Guanajuato. "Travel agents can expect even better news from Guanajuato. Our private sector is committed to providing better products and services. We had the Sustainable and Social Tourism Summit in Leon a few weeks ago; we are about to host the biggest nature adventure show in Latin America and the Festival Internacional Cervantino from October 12 to 30, on the occasion of the 50th anniversary of the biggest cultural festival dedicated to Cervantes.
Guanajuato will also host the International Hot Air Balloon Festival, the third largest in the world, and an event to celebrate famed Mexican mariachi singer and songwriter Jose Alfredo Jimenez, who died in 1973. Day of the Dead becomes a big celebration in the capital Guanajuato and San Miguel de Allende.
Source: travelpulse.com
San Miguel post
Related