Seminole retiree's 500-mile pilgrimage fulfills dreams abroad and raises funds at home | Seminole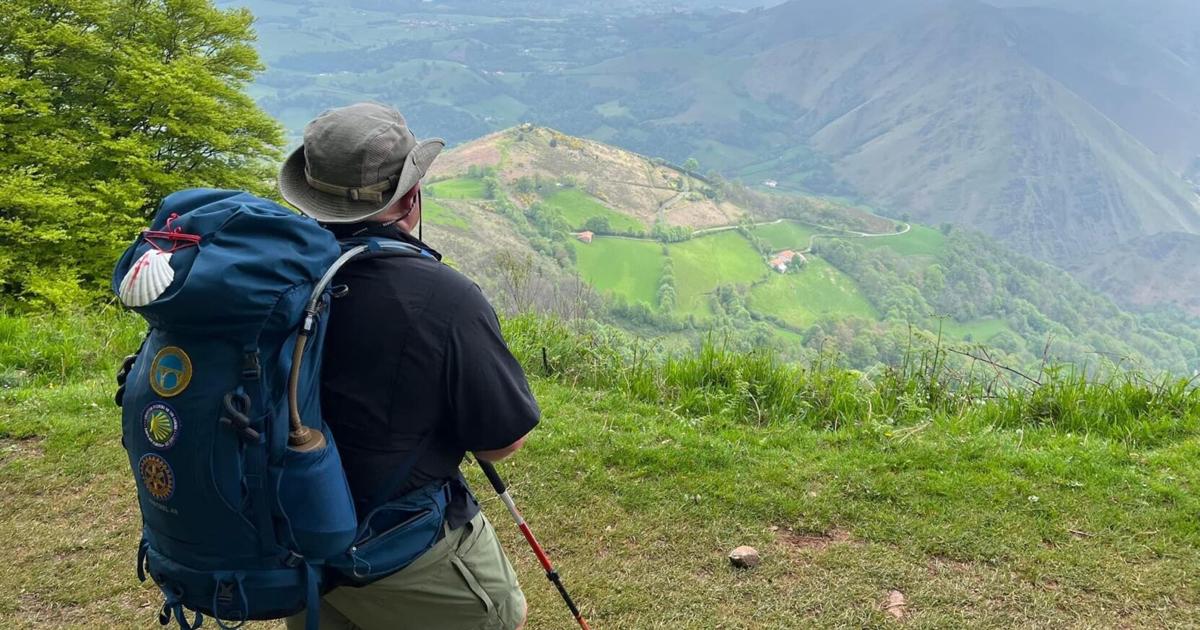 SEMINOLE — Each year, more than 350,000 people from around the world take part in the Camino de Santiago — or Way of Saint James — a more than 1,000-year-old pilgrimage from the south of France to the west coast of Spain.
The 800 km hike will take hikers to the Cathedral of Santiago de Compostela, where the remains of Saint James are found.
Among the many people undertaking the pilgrimage this year is Seminole's own retiree, Dave Buzza.
"For 1,000 years people have made this pilgrimage to visit the remains of St. James," Buzza said in a hiking trail interview with Tampa Bay Newspapers. "In ancient times, it was a way for Christians to repent of their sins and show respect."
In recent years, Buzza said, pilgrims take up the challenge for a variety of reasons — spiritual, personal and even for their physical health.
But whatever the reason, Buzza said he was not alone on the journey.
"Over 350,000 people are making this trip, from all over the world," he said. "I hike with people from pretty much every country you can imagine."
Travel has been a lifelong passion for Buzza, whose plans had been put on hold due to COVID-19 health and travel restrictions.
"It's always been something I've wanted to do," he said. "I've been an avid hiker and hiker all my life."
But it's not just his own dream that drives him to complete the journey. It was also the dream of his brother, who died.
"My brother passed away early, from Parkinson's disease," Buzza said. "He was only 60 and he always wanted to do this, but he obviously couldn't."
Buzza said he took his brother's ashes with him and distributed them along the trail.
"Hike for the Hungry"
Buzza has been an active member of the Rotary Club of Seminole Lake since retiring here, having served as past president and currently as club foundation president.
Before his trip began in mid-May, Buzza and club president Gerry Cachia discussed ways to translate the pilgrimage into a tangible effort in Pinellas County.
"I said to him, 'It's a shame we can't do this hike not just for something you've always wanted to do,'" Cachia said. "'Right now there is such a need for food for the homeless because of the cost of everything. Why don't we ask people to sponsor your hike per mile? »
And that's exactly what they decided to do.
The Rotary club launched the Hike for the Hungry campaign to raise funds to support the Florida Dream Center. Donors were asked to pledge a sum of money for each kilometer run.
Currently, Cachia said the organization has raised nearly $3,000, but hopes to earn $10,000 by the end of the Buzza trek, which is tentatively set to end on Saturday, June 11.
"The Dream Center offers an exceptional outreach program," said Buzza, who also chose the center as the fundraising beneficiary.
"They're really hurting right now," he said. "The economy has put a lot of people in a position where they need help for the first time. Pinellas County's homeless population has exploded, due to high rents and the cost of living, which are putting more people on the streets.
The funds raised will be used to purchase canned goods to help feed 400 needy and homeless families in the region.
"Hopefully we can do some good," Buzza said. "Our motto is service before self. That's the whole story."
To donate to the kike, visit www.signupgenius.com/go/30E0A4FABA82EA1FE3-hike.