Los Titanes en España – The Crested Butte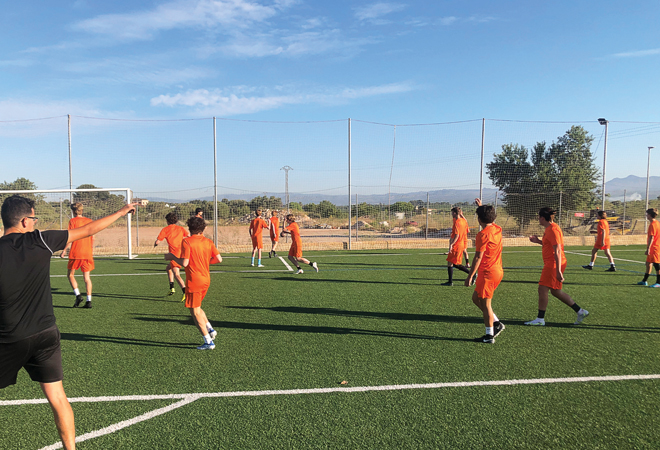 It is time!
by Than Acuff
It may have been the magic of the internet, i.e. Google algorithms, but a search for a football camp in Madrid by the chairman of the board of directors of the West Elk Soccer Association / Football coach Ross Matlock led to a random email from Futedu Academy Valencia, which then led to 25 Titans traveling from Gunnison, Colorado to Betera, Spain just outside the coastal city of Valencia for two weeks of soccer, football, training and culture.
After 36 hours of travel, a suspicious meal and a poor night's sleep, the players received their "kits" consisting of an orange training shirt and shorts and sent to a grass pitch for their first session and they played catch- from the first minute.
The lessons are similar, but different. Fútbol is in their DNA here and what seems like second nature to players in Spain, and all over the world, takes a long, long time for Americans to digest.
Anyway, the mix in the first week of training and rides was good. Workout, Relax, Workout, Relax, Beach, City Tour, Paella, Workout, Pool, Workout, Relax, Visit Valencia Pro Stadium, Relax, train, relax, pool.
While the first meal concerned everyone, this turned out to be an anomaly as every meal since has gone well. Breakfast is at 7 or 8 a.m., lunch at 1 p.m. and dinner at 8 p.m. However, the Titans have discovered that there are plenty of food delivery options in Betera to get their fix of Burger King, Telepizza, and pretty much anything else.
That said, the afternoon period between lunch and dinner seems to be the hardest for the Titans and myself, as there is no fridge or cupboard full of snacks and cereals, no Mikey's Pizza and definitely no True Value around the corner. We are in a training center outside the city and somewhat autonomous. It is also shared by other football academies who bring in players from Tunisia, Egypt, Russia, among other Americans and a pickup game one night was what Ross and I were hoping for. Kids from Crested Butte play the world's most popular game with kids from other states, countries and continents. An Icelandic high school girl basketball team was also present, but only for a short time, minimizing any football distractions the Titans could entertain.
And while it's a training facility, it also seems to host some sort of graduation, birthday party, or whatever people choose to celebrate each night. Celebrations of all ages often don't start until 10 p.m. and can include fireworks right outside our door at 1:30 a.m., enjoyed by grandparents in their 80s to grandkids 8 years old.
Still, the Titans have to be up at 7:30 a.m. for breakfast and practice no matter what. Luckily coffee is plentiful here and although I thought I had a problem at Crested Butte, my simple day-to-day survival relies almost entirely on the constant availability of coffee.
The first week of camp was a mix of skill and tactical work with the main emphasis on individual and team defense. One of our coaches (entrenador), Mario, makes it very clear during small-scale exercises when to push harder by shouting, "It's time!" A phrase the Titans adopted for everything.
"When is breakfast?"
"It is time!"
"When can we go swimming?"
"It is time!"
"When can we do laundry?"
"It is time!"
The first week ended with games, uh games, against two teams, an u16 team and an u18 team, from a local club in Betera. Temperatures were in the 80s with plenty of humidity when we went to the grass pitch and got shoved in both games. Suffice it to say, this is a level no Titan has ever seen before.
Some lessons were learned and at one point a Titan came off the pitch claiming his legs were numb because his socks were too tight and his feet were so hot. But our coaches Mario, Sergio and Miguel still gave their all to lead the Titans and spoke of pride, hard work and effort no matter the score. The Titans did everything they could to maintain that mantra, but there was not much they could do.
Disappointed? Not so much because we knew playing against local teams would be tough and if we could take a few things out of the experience it would be worth it.
We licked our wounds, went back to our rooms for another night of noise from another party, but had the next day to visit Valencia, eat pizza, burgers and ice cream and learn some history.
Our guide broke it down easily for the Titans explaining that Valencia was first inhabited by the Romans, then the Arabs, then the Catholics. The history of local industry has also been simplified into three eras; agriculture, ceramics and then tourism. At the end of the Silk Road, Valencia had its heyday and you can tell by some of the buildings, especially the intricate masonry that lines the entrances and windows of so many older buildings.
One thing is for sure, the bat is of the utmost importance for Valencia. There's a bat on the crest of both professional football clubs, Valencia and Levante, on every manhole and utility cover on pavements and streets everywhere else. I have been told why the bat is so important in three different ways but it remains unclear to me. Either the bat woke King James by alerting him to an impending Moorish attack, or a bat saved King James' life by stopping an arrow aimed at him. Or he landed on his head as they attacked and conquered Valencia in 1238 and is therefore lucky. Either way, respect the bat. But, as the heat descended on the Titans during the walking tour, tempers melted and less and less knowledge was retained. So now we are back to training.
Some video analysis of our matches highlighted a lot of shortcomings in our game, so we're back to work, improving in a few areas, spending another day at the beach, and then training more as we train. prepare for two more matches on Friday, June 17. before our departure. Our only hope is that we improve on our first effort.
Until then… "It's time!"