4 Wildcats receive Fulbright scholarships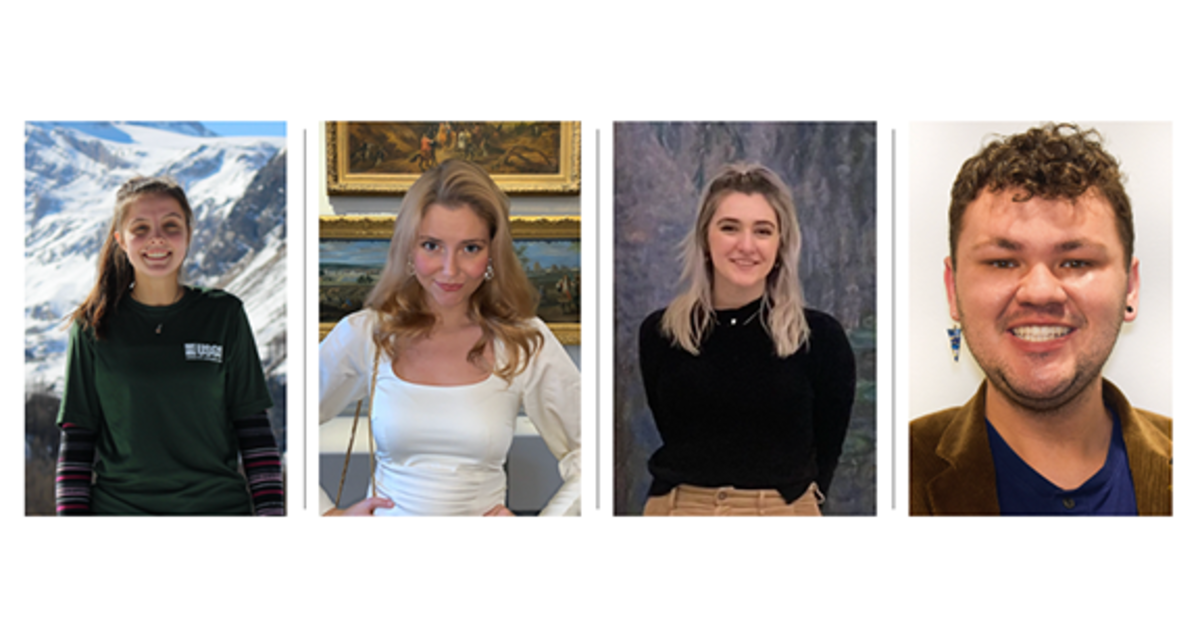 LEXINGTON, Ky. (April 28, 2022) — The Office of Nationally Competitive Awards at the University of Kentucky announced that three students and one recent graduate have been offered Fulbright U.S. Student Program scholarships to travel abroad to teach, study, or pursue research for the year. university 2022-23.
Fulbright grant recipients are selected on the basis of their academic or professional achievements, as well as their demonstrated leadership potential in their fields. The program works in more than 140 countries.
This year's UK Fulbright recipients are:
Kennedy Bailey
Kennedy Bailey, daughter of Benny and Shelby Bailey, of Hindman, Kentucky, is a recipient of the Fulbright English Teaching Assistantship. She will use her scholarship to teach English at secondary and college schools in Norway.
Beyond her educational career, Bailey has participated in a number of internships and professional opportunities. This includes being associate editor of the Emily Dickinson International Society Bulletin and private tutor for Hindman Settlement School's dyslexia summer programs, where she worked one-on-one with students to improve their reading and writing skills. understanding.
After gaining valuable experience, Bailey is excited to teach in Norway with Fulbright.
"Completing my Fulbright English teaching assistantship in Norway will give me the opportunity to continue teaching English language arts in high school classrooms as well as in university settings," Bailey said. "Furthermore, I look forward to studying the Norwegian language and storytelling practices through creative writing. I am interested in how the language we use to tell our stories impacts how we think about ourselves and the world around us.
Bailey credits mentors from the UK College of Education, including Sharim Hannegan-Martinez and Leslie Burns. She also credits Helen Emmitt and Daniel Manheim, professors at Center College (where she received her bachelor's degree in 2021), as her inspirations.
Upon completion of her Fulbright ETA, Bailey plans to pursue a Ph.D.
Anna Fatta
Anna Fatta, daughter of Amy Matthews and Dominic Fatta, of Parkersburg, West Virginia, is a recipient of the Fulbright English Teaching Assistantship. As a Fulbright recipient in Mongolia, Fatta will teach university students over a one-year period. She will also serve as a cultural ambassador and hopes to use her role to start conversations about climate change, environmental policy and global collaboration.
Fatta wants to work at the intersection of chemistry and ecology, and says it was in the UK that she discovered her passion.
"I was always certain that I would major in chemistry, but I didn't find my place in this field until much later, when I started climbing in the UK, thanks to a group WRD 112 ( Writing, Rhetoric, and Digital Studies) project. We were analyzing outdoor recreation and I went to the Red River Gorge for the first time. I spent many weekends there during my stay in Lexington and started thinking about how I could contribute to public lands.With the help of a few federal summer jobs and a wide variety of courses, my goals now focus on research directly related to the land management and policy.
While in the UK, Fatta worked in several laboratories with British chemistry professors, including Marcelo Guzman, Phoebe Glazer and Mark Watson.
She also attended Education Abroad for both semesters of her senior year. In the fall, she completed a national exchange with the Wild Rockies Field Institute in Montana, where she deepened her understanding of research in a way that is accessible and important to policy makers. This spring, she lived in Copenhagen, Denmark, where she studied at the Danish Institute for Study Abroad. Along with learning a new language, she took courses in glaciology, climate change, and travel writing.
"I learned about all the different types of climate information we can analyze, especially from ice, and came to understand that our response to climate change must be global."
Fatta acknowledges many people in the UK who were influential on his journey to graduating and earning a Fulbright, including Jon Hibbard, his overseas education adviser; College of Arts and Sciences faculty members Stephen Testa, Arthur Cammers and Tony Stallins; his mentor and employer Chris Little, with the Lucille Caudill Little Fine Arts Library; and Pat Whitlow, director of the UK Office of Nationally Competitive Awards, who helped her submit her Fulbright application.
Upon completion of her Fulbright ETA, Fatta hopes to pursue a doctorate. and pursue a career in research.
"Wherever my future career takes me, I would like to maintain this holistic approach to science," she said. "Especially given climate change, it's important to learn how Earth science systems are working now and how they might change in the years to come."
Ty Gill
Zachary Ty Gill, son of Sally and Pascal Gill, from Saucier, Mississippi, is the recipient of a Fulbright Open Study scholarship in France. Gill received her bachelor's degree from the University of Mississippi and will graduate from the UK next week with a master's degree in linguistics. He conducts research on perceptions of spoken English on the Mississippi Gulf Coast, where he is from.
"This program offers lessons in the historical linguistics of the Romance languages ​​and how Latin evolved into the various languages ​​spoken primarily in Western Europe," Gill said. "It helps me study my family's 300-year-old French dialect spoken on the Mississippi Gulf Coast, as it is a mixture of several French dialects and other Romance languages."
Gill says French speakers in the Mississippi Gulf region have long been discriminated against, and his research has shown that French-influenced English is heavily stigmatized among spoken varieties.
"As I've been judged on the way I speak all my life, I've found linguistics particularly interesting," Gill said. "Now I see it as a way to uplift my community and challenge the stigma of others, in hopes of eradicating language insecurity."
Gill attributes his success to the entire UK linguistics department.
"Everyone has also been supportive of my work and provided me with different perspectives to consider," Gill said.
In addition to his academic work, Gill worked on the Linguistic Atlas Project and helped transcribe the Linguistic Survey of Scotland. He also received a Fulbright scholarship in Spain for the 2019-2020 academic year.
After completing his studies, he plans to pursue a doctorate. in linguistics from the University of Washington.
Mary Allison Steel
Mary Allison Steel, daughter of Victoria Rutzen, of Paris, Kentucky, is a recipient of the Fulbright English Teaching Assistantship – which will enable her to teach English in Spain for a year to young Spanish students.
"Growing up in a small southern Kentucky town of 2,000, the only culture I witnessed for most of my life was my own," Steel said. "It wasn't until I started volunteering at local elementary schools in my state that I became fully immersed and inspired by the Hispanic community. As a young girl with dyslexia, I felt like my Spanish-speaking students, because words were also once my greatest enemy. It inspired me to focus on diversity inclusion, learning Spanish, and advocating for ESL students to the highest degree possible. This passion has taken me all over the world and I look forward to being further influenced by Spanish culture through my Fulbright scholarship.
After graduating from the UK College of Education with an undergraduate degree in 2019, Steel applied for her first teaching position in Stockholm, Sweden, where she currently teaches 110 refugee students.
Steel credits Sharon Brennan and Kim White of the UK College of Education as her most influential educators.
"My first insight into international education was inspired by Dr. Brennan. She instilled the importance of diversity in the classroom and of using culture as a means of celebration. Under his support, during my last year of university, I traveled to Valencia, Spain, where I taught at an international school. Here, I witnessed the influence of culture in a classroom, and it transformed my understanding, realizing that education is the beating heart of a country for global stability," Steel said. While in the UK, Steel was involved in numerous research activities to support low-income students, spending over 1,000 hours teaching and volunteering.
Upon completion of her Fulbright ETA, Steel hopes to earn a Ph.D. in bilingual and multicultural education. Its overall purpose is to serve within the United States Department of Education and to be a voice for diverse students learning English.
****
The Office of Nationally Competitive Awards helps current UK undergraduate and graduate students and recent alumni to apply for scholarships and fellowships funded by external sources (such as a non-governmental foundation or government agency) outside the university, including Fulbright US Student Program scholarships. These awards honor outstanding students across the country. Students interested in these opportunities are encouraged to contact the office well before the scholarship deadline. The campus deadline for Fulbright applications for the 2023-24 awards cycle is September 7, 2022.
About the American Fulbright Student Program
The American Fulbright Student Program broadens opportunities through academic and professional advancement and cross-cultural dialogue. Fulbright connects in a complex and changing world. In partnership with more than 140 countries around the world, the Fulbright US Student Program offers unparalleled opportunities in all academic disciplines to passionate and accomplished senior graduates, graduate students, and young professionals from all walks of life. Program participants pursue higher education, conduct research or teach English abroad.
During their grants, Fulbrighters will meet, work, live with, and learn from people in the host country, sharing everyday experiences. The program facilitates cultural exchange through direct interaction on a one-to-one basis in the classroom, in the field, at home, and in routine tasks, allowing the recipient to gain an appreciation for the viewpoints and beliefs of others , their way of doing things and their way of thinking. Through community engagement, individuals will interact with their hosts on a one-to-one basis in an atmosphere of openness, academic integrity, and intellectual freedom, thereby fostering mutual understanding.
Learn more at https://us.fulbrightonline.org/.